Cinematic Style LUTs for DJI Osmo Footage
"One Click" Color Grading!
EVEREST is a Color Grading LUT Pack specifically developed for DJI Osmo D-Log Footage.  Everest LUTs make it  super easy to achieve cinematic style looks for your DJI Footage, helping you create compelling video stories. So whether you're editing professional videos,  holiday videos, music videos, weddings, special events, birthdays and more… we're confident you'll pick a LUT style that shows off your DJI Osmo skills.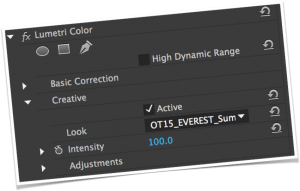 We've crafted the Everest LUTs to give all DJI Osmo film makers, a lot more creative latitude when it comes to color grading.
Simply pick one of 20 Cinematic LUTs and with ONE CLICK, you already have a great starting place with enough flexibility to tweak each
LUT for your own custom look.
Each LUT is designed to work with DJI Osmo D-Log Footage, so you can achieve the same consistent look each time.
EVEREST LUTs – Professional Color Grading for  DJI Osmo Footage Made Simple !
20 Custom Cinematic Style LUTs for DJI Osmo D-Log
What You Get in the EVEREST Pack
OT01_EVEREST_Neutral_Level: Natural Colors
OT02_EVEREST_Neutral_Punch: Natural Colors with a kick
OT03_EVEREST_Tru_Blu: Cool Toned look
OT04_EVEREST_Movie_Like: Hollywood Film look
OT05_EVEREST_Warm_Sun: Warm Toned Look
OT06_EVEREST_Golden_Touch: Golden sparkle look
OT07_EVEREST_Titanium:  Metallic look and feel
OT08_EVEREST_Dark_N_Lovely: Strong contrast B&W
OT09_EVEREST_Emeraldo: Punchy bluish-green look
OT10_EVEREST_Olivine: Olive themed look
OT11_EVEREST_SummerScorcher: Red themed filmic look
OT12_EVEREST_Touch_Of_Bronze: Subtle warm look
OT13_EVEREST_MemoryLane: Old film look
OT14_EVEREST_SunKissed: Pleasing bright sun look
OT15_EVEREST_SummerPunch: Punch out all the colors
OT16_EVEREST_Urban_Street: Urban city look and feel
OT17_EVEREST_Warm_Winter: Warm yet Cold Film look
OT18_EVEREST_Life_Is_Beautiful: Picture portrait look
OT19_EVEREST_TwoTone_Rouge: Red/B&W 2 tone look
OT20_EVEREST_SunSplash: Festival fun themed look